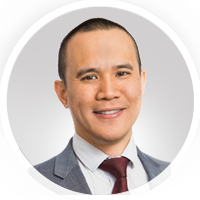 Mr Justin Wong
MBBS, BMedSci, FRACS(Orth), FAOrthA
Mr Justin Wong was educated in Melbourne, completing his medical degree through the University of Melbourne in 1999. He undertook his orthopaedic training in the Victoria Orthopaedic training programme, winning the Allan Frederick Dwyer Prize for best research paper.
After completing his Orthopaedic training, Mr Wong completed eighteen months of Fellowship training in centres in the UK and across Europe, learning advanced techniques in knee replacement surgery, sports knee injuries and knee reconstruction, and the management of knee cap dislocations and patellofemoral problems.
Mr Wong now operates at several private hospitals in the North and East of Melbourne. He specialises in:
Knee replacement surgery (primary, complex and revision)
Robotic joint replacement surgery
Sports knee injuries and ligament reconstruction
Surgical management of patella dislocations
Hip replacement surgery
Mr Wong also has public hospital appointments at Box Hill Hospital, and The Northern Hospital where in addition to his role as Consultant Surgeon, he is also Director of Training and Director of Orthopaedic Research. He has won several grants for research into robotic surgery, ACL reconstruction and patella instability and has presented his work at national and international meetings.
In his spare time, he enjoys indoor soccer and Brazilian jiujitsu training.
Appointments can be made to see Mr Wong at the following locations
For all appointments with Mr Justin Wong, please call 98827753.
For further information please visit Justin's personal website at www.justinwong.com.au.