What is robotic assisted knee replacement
It is a knee replacement where the surgeon utilizes a robot to help with the operation.
How long has robotics been used for knee replacement
The first robotic arm assisted Total Knee replacement was performed in June 2016. MHK surgeons performed the first Robotic knee replacement in Victoria in November 2017.
How is the operation planned?
The size and positioning of the prosthesis is planned to fit the patients anatomy.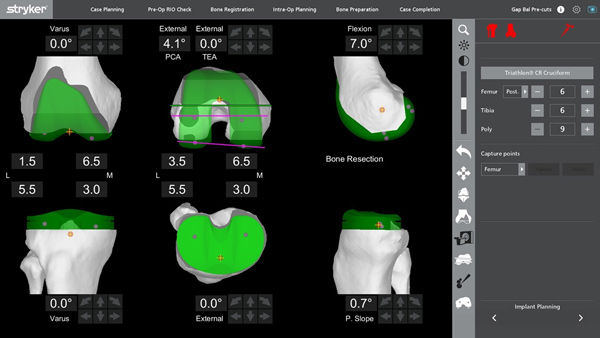 How is the operation performed?
The operation is very similar to a standard knee operation and uses the same cut at the front of the knee. Two small pins are attached to bone on either side of the knee and this helps the robot during the operation. Early in the operation multiple landmarks are checked and rechecked to allow matching of the patients' anatomy to their scans.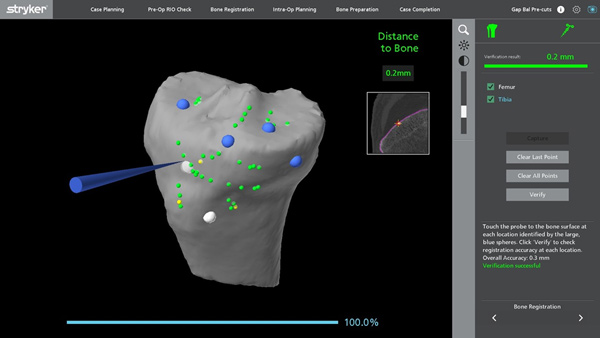 After assessing the patient's ligament tension, gap analysis, and limb alignment, surgeon controlled intra-operative adjustments can be made to the pre-operative plan in both flexion and extension before bone preparation.
The plan is then checked and adjusted with the surgeon aiming to give the best knee replacement - i.e. one that moves well, without pain and feels as close to normal as possible.
What prosthesis is used
Standard total knees are used for robotic knee replacement surgery
What is the revision (redo) rate?
There is no specific data yet on revision rate for robotic knee replacement.
Is this a "less invasive" procedure
No a very similar size cut is used to a standard procedure.
Is it more accurate?
There have been a couple of research papers looking at this which show increased accuracy and precision, and protection of the soft tissues around the knee.
Robotic-Arm Assisted Total Knee Arthroplasty Demonstrated Accuracy To Plan Even During Learning Phase Hampp E., Scholl L., Prieto M., Chang T., Abbasi A., Bhowmik-Stoker M., Otto J., Jacofsky D.J., Mont M.A. European Knee Society Arthroplasty Congress 2017, London, UK, 20 & 21 April 2017
Robotic-Arm Assisted Total Knee Arthroplasty Demonstrated Soft Tissue Protection Hampp E., Bhowmik-Stoker M., Scholl L., Otto J., Jacofsky D.J., Mont M.A. European Knee Society Arthroplasty Congress 2017, London, UK, 20 & 21 April 2017