Joint replacement operations have an excellent success rate helping patients who were previously crippled by painful, stiff, arthritic joints be able to walk again. During the operation the surgeon cuts and prepares the bone then places the new prosthesis as accurately as possible in position using a series of jigs, saws and other instruments. Our aim is always to be as accurate as possible but most studies show some variability in how well we achieve this.
Our attempts at accuracy are now helped by the availability of a surgical robots that helps with the planning and execution of the operation.
There are different types of robots supported by different prosthesis/implant companies. They all have their advantages and disadvantages. With some robotic systems the patient will have a CT scan prior to surgery. With others they will not.
The most commonly used Robot in Australia is the MAKO™ robot. This has been used for over 10 years in the USA but has been available in Australia for Partial Knee Replacements for 2 years, Total Hip Replacement for 1 year, and is now available for Total Knee Replacement as well.

MHK surgeons have performed the first Robotic Total Knee Replacement in Victoria, as well as performing the first robotic Total Hip Replacement and Partial Knee Replacement at the Epworth hospital.
What equipment is used for a robotic operation.
The setup involves different pieces of equipment.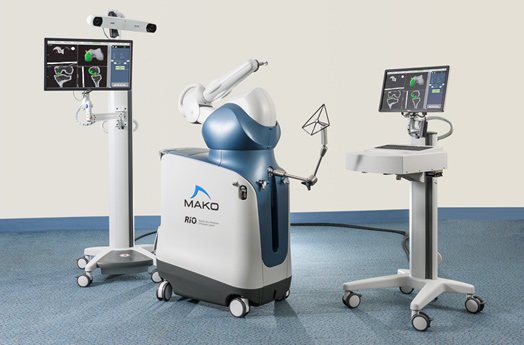 A control area with screen and keyboard through which the plans are made and can be changed or updated at any stage.
A sensor and screen that monitors the position of the leg and where the robot interacts.
The robot and end effector (tools).

For a partial knee replacement this is a bur.
For a hip replacement this is a reamer
For a total knee replacement this is a saw.