What is a robotic assisted hip replacement?
It is an operation where the surgeon uses a robot during a hip replacement operation. This is the same as a normal hip replacement but a robot is used to try and get the components in an accurate position every time. We think that getting the hip replacement right is important for better outcomes for patients.
How long has robotics been used for hip replacement
The first robotic arm assisted hip replacement was performed in October 2010. In Australia the first Mako Hip replacement was performed in 2016. MHK surgeons first performed a robotic hip replacement in February 2017.
How is the operation planned?
Prior to the operation the patient will have a CT scan of the hip. From this any difference in leg length between the 2 sides is measured and if necessary a correction can be made in the surgical plan. The size and position of the components is then planned to the patients' own anatomy to try and get the best match for each patient.
Preoperative anatomy seen on CT scan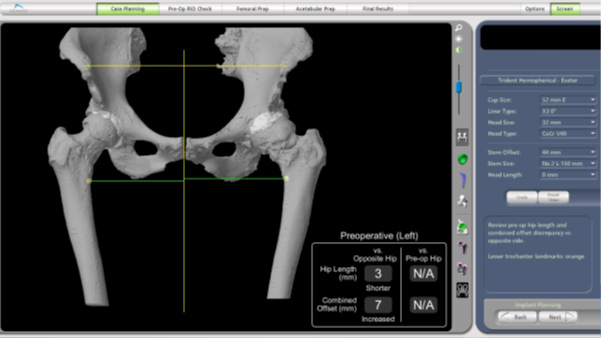 Planning the acetabular component position on the CT scan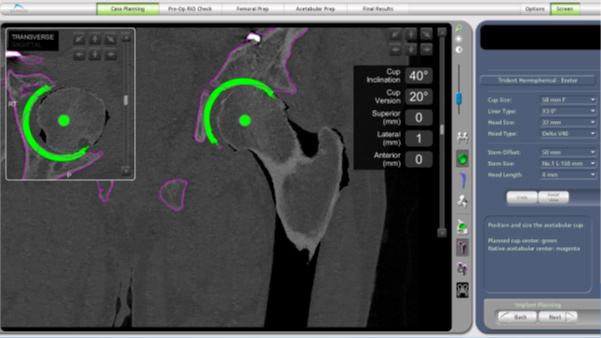 The planned hip replacement with correction of anatomy to match the other side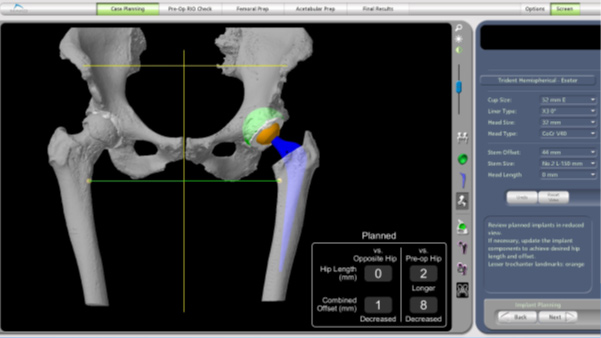 How is the operation performed?
For the most part this is exactly the same as a standard hip replacement except for a few small differences. Metal pins are inserted into the iliac crest (pelvic bone) with an array attached which allows the robot to see where the pelvis is positioned at any time. Early in the surgery a series of anatomic landmarks around the hip are registered with the robot that allows it to recognize the anatomy and match it to the CT scan.
When preparing the bone for the acetabulum (socket) and inserting the prosthesis; instead of doing this freehand, the robot holds the instruments in the position that was planned. to ensure the plan is followed. When preparing the femur, the feedback from the robot informs the surgeon if what they are doing conforms to the original plan.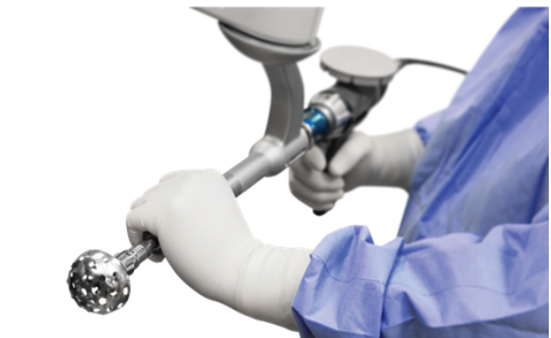 What prosthesis is used
The prosthesis used for this are standard hip replacement prosthesis which have been around for many years. MHK surgeons mostly use the Exeter/Trident hip replacement for this. This is the most commonly used hip replacement in Australia. It has excellent long term results.
What is the revision (redo) rate?
There is no data specifically looking at the redo rate for robotic hip replacement in Australia.
In The Australian Orthopaedic Association 2017 Annual Joint Replacement Registry the Exeter Trident hip replacement has a revision rate of 4.1% at 10 years and 5.7% at 15 years. The average revision rate for hip replacements in Australia is 6.6% at 10 years and 9.8% at 15 years.
Is this a "less invasive" procedure
No. The same approach (cut) is used as a standard procedure. The robot can be used for any approach (Posterior, anterior or lateral)
Is it more accurate?
There are some early research papers that show increased accuracy of component positioning with robotics compared to manual techniques. We hope this will lead to a lower dislocation rate and better patient outcomes.
Nawabi DH;Conditt MA; Ranawat AS; Dunbar NJ; Jones, J; Banks S, Padgett DE. Haptically guided robotic technology in total hip arthroscopy - A cadaveric investigation. Journal of Engineering in Medicine. December 2012. [Epub ahead of print]
Dounchis J, Elson L, Bragdon C, Padgett DE, Marchand R, Illgen R, Malchau H. A Multicenter Evaluation of Acetabular Cup Positioning in Robotic-Assisted Total Hip Arthroscopy. 43rd Annual Course: Advances in Arthroscopy, October 22-25, 2013, Boston, MA
Domb BG, EL Bitar YF, Sadik BS, Stake CE, Botser IB. Comparison of Robotic-assisted and Conventional Acetabular Cup Placement in THA: A Matched-Pair Controlled Study. Clin Orthop Relat Res. 2014 Jan;472(1):329-36
Domb BG, et al,. Does Robotic-Assisted Computer-Navigation Affect Acetabular Cup Positioning in Total Hip Arthroplasty in the Obese Patient? A Comparison Study. 14th Annual CAOS Meeting, June 18-21, 2014, Milan, IT.
Domb BG, et al,. The Learning Curve Associated with Robotic-Assisted Total Hip Arthroplasty 14th Annual CAOS Meeting, June 18-21, 2014, Milan, IT.
Illgen R. Robotic Arm Assisted THA Improved Accuracy, Reproducibility and Outcomes Compared to Conventional Technique. 43rd Annual Course: Advances in Arthroplasty, October 22-25, 2013, Boston, MA
Accuracy of Cup Positioning and Achieving Desired Hip Length and Offset Following Robotic THA. Jerabek SA; Carroll KM; Maratt JD; Mayman DJ; Padgett DE; 14th Annual CAOS Meeting, June 18-21, 2014, Milan, Italy.
Efficient and Accurate Hip Length and Combined Offset with the MAKOplasty THA Femoral Express Workflow, Thompson, M., March 2014
Bukowski, B.; Abiola, R; Illgen R. Outcomes after primary total hip arthroplasty: Manual compared with robotic assisted techniques. ; 44th Annual Advances in Arthroplasty; Cambridge, MA. October 7-10 2014.
Suarez-Ahedo, C; Gui, C; Martin, T; Stake, C; Chandrasekaran, S; Christopher, J; Domb, B. Preservation of Acetabular Bone Stock in Total Hip Arthroplasty Using Conventional vs. Robotic Techniques: A Matched-Pair Controlled Study. CAOS International 15th Annual Conference; June 17-20, 2015, Vancouver, Canada.